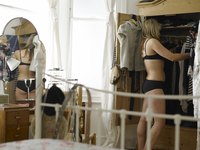 Wearing stocking suspenders is easy when you have the right fit and understand the technique used to slip in and out of them with ease. Whether you're sporting stocking suspenders and stockings as a bedroom accessory, or everyday garb, understand that practice makes perfect when donning this glamorous underpinning.
Things You'll Need
Stocking suspenders (also known as a garter belt)
Stockings
Panties (in a matching or coordinating color)
Select your stocking suspenders. If you are wearing stocking suspenders as a bedroom accessory, a garter belt with four attachment straps will work fine. If you plan on wearing them as an every day accessory instead of tights or standard pantyhose, a belt with six attachment straps will provide more support. If you feel this is uncomfortable, check the web and specialty lingerie shops for garter belts with up to 12 attachment straps.
Select your stockings and panties. Choose stockings and panties that match or coordinate with your stocking suspenders.
Put on panties, followed by the garter belt. Place the garter belt on the most comfortable loop so it does not dig into the sides of the waist.
Put on stockings. Roll stockings outwards when putting them on, making them easy to pull on while keeping any back design or seams aligned.
Attach stocking suspenders to stockings. To do this, open the attachment and pull the top of the stocking upwards. Once the attachment is about an inch into the weft (the wide, thick portion at the top of the stocking), close attachment. Press the attachment through the loop and slide in to secure. Once all of your attachments are secure, adjust the straps like you would a bra.
To ensure the back straps are not pulled too tight, adjust them while placing your leg up on a chair.