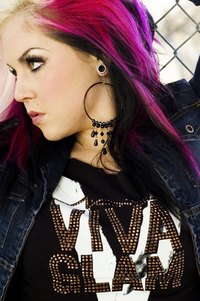 Stretched ears are a popular alternative fashion statement. Rather than a tiny hole for an earring, the ear has a hole large enough to see through. To achieve this state, you must work your way up with plugs of progressively larger size. If you try to move to the next size too quickly, you can damage your ears. As long as you have the right size plugs, it's easy to put plugs in stretched ears.
Things You'll Need
Purchase plugs in the right gauge. Take your current plugs with you to the jewelry store. The store will have a gauge chart to help you choose the proper size. Compare your plugs to the chart. If you want to stretch your ear more, you should purchase the next size up.
Place some lubricant on your ear lobe. This is especially important if you are moving to the next size up.
Pull your ear lobe down. This will open the hole a bit more.
Align the top of the plug with the top of the hole.
Stretch the ear around the plug. Usually the plug is slightly wider around the back and front of the plug. This helps it to stay in the hole.