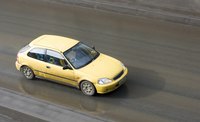 The Florida Department of Highway Safety and Motor Vehicles (DHSMV) issues several types of licenses for Florida car dealers. The state has a complex set of requirements to obtain a dealer's license. Applicants must register a business, prepare an approved car lot and get training. Dealers must also obtain bonding and insurance. Those who manage to fulfill the difficult requirements can get a car dealer's license and enter the rewarding field of vehicle sales in Florida.
Things You'll Need
Bonding form
License application
Insurance certificate
Training certificate
Lot lease or ownership documents
Business registration forms
Fingerprint cards
Visit the compliance officer at your regional Florida DMV office (See Resources). Get an inspection checklist. Use the checklist when acquiring or building a lot to ensure that the lot complies with the requirements for a dealer place of business. Schedule an inspection with the compliance officer. Submit a copy of lease or proof of ownership with your application.
Choose a training provider and attend required dealer training. Franchise dealers who have a contract with a manufacturer must attend eight hours of training. Other licensees must attend 16 hours of training. Get a completion certificate from the provider.
Register your business with the Florida Division of Corporations if you want to establish a corporation, limited liability company, or partnership. You may also register a fictitious business name. Click on the applicable links on the forms page to download the forms you need (See References). Save a copy of all registrations for your application packet. The fees differ for each type of business entity. Refer to your individual form for the fees. You may pay for all business registrations with a check or money order made out to the Florida Department of State. Regardless of the forms you file, use the following address to submit your filing forms and fees:
Department of State Division of Corporations P.O. Box 6327 Tallahassee, FL 32314 850-245-6052 sunbiz.org
Obtain a Florida sales-tax ID number and federal employer identification number. Call the Internal Revenue Service at 800-829-4933 to get a free EIN. You can also get a free Florida sales-tax number if you apply online (see References 3). You may also send in an application (see References 4). As of 2010, the fee is $5, payable by check or money order to the Florida Department of Revenue. Send the form and fee to the following address:
Florida Department of Revenue 5050 W Tennessee Street Tallahassee, FL 32399-0100 800-352-3671 dor.myflorida.com
Obtain a $25,000 surety bond from a bonding company or a letter of credit from a Florida bank. The surety company must sign the bond form . The bank must sign the letter-of-credit form (See Resources).
Get insurance. Florida car dealers must have $25,000 of garage liability insurance, including combined single-limit coverage for bodily injury and property damage. It also requires $10,000 in personal injury protection. Car dealer applicants may combine garage liability insurance with a business automobile policy--except franchise dealers and dealers of motor homes and recreational vehicles.
Obtain DMV fingerprint cards from a regional DMV office. You and all other corporate officers and directors or members or partners must go to the local police and complete the fingerprints. As of 2010, you need to add $54.25 for each person to the application fee. Submit the cards with your application.
Fill out the application for a Florida dealer's license (See Resources). As of 2010, the fee is $300. Add the $54.25 for each set of fingerprints. Make a check or money order payable to DHSMV. You may pay by cash or credit card if delivering in person to a regional DMV office. Send the application, fee and supporting documents to the following address:
Department of Highway Safety and Motor Vehicles Division of Motor Vehicles Neil Kirkman Building 2900 Apalachee Parkway Tallahassee, FL 32399-0500 850-617-3003 flhsmv.gov