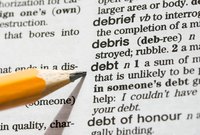 It takes money to make money and there are two primary ways that companies raise capital: through debt or equity. Equity represents ownership and so investors are compensated with a claim on the future earnings of the company, however, the company is not guaranteeing the repayment of the original investment. Debt, on the other hand, must be repaid. It therefore increases the risk associated with investing in the company that increases the company's overall cost of capital.
Review the debt ratio formula. The debt ratio is debt divided by assets; that is, what proportion of a company's debt compared with assets.
Identify debt line items and values. Debt is any liability against a company. Common debts include accounts payable, notes payable, bank loans, and bond issuances.
Identify assets line items and values. Assets are owned by the company. Common assets are cash, inventory, accounts receivables, equipment, investments and real estate.
Compute the debt-to-assets ratio by dividing total debt by total assets.
Interpret the debt ratio. A debt ratio of greater than 1 is indicative of a company with more debt than assets. Therefore, to reduce the debt ratio, the company must reduce debt and/or increase assets.
Reduce the debt ratio. The most common way that companies reduce the debt ratio--reduce debt line items and/or increase asset line items--is to issue stock to raise cash without the accompanying debt obligation.
Set up a meeting with your bank and legal team to discuss issuing stock.