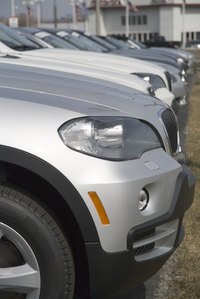 If you want to operate a car dealership in New Jersey, you are required by law to get a car dealer license from the New Jersey Motor Vehicle Commission (MVC). Before you begin the actual application process of obtaining a dealer's license, you must first set up your place of business and get the appropriate license from the New Jersey Commissioner of the Department of Banking for financing your customers' purchases.
Establish a place of business for your car dealership. Set up a showroom to display the cars you will be selling. Put up a sign outside your place of business that identifies you and your dealership.
Contact your local municipality to learn the requirements for operating a car dealership business. Comply with all the requirements that your municipality demands.
Obtain a certificate of insurance for minimum amounts of $15,000/$30,000 for bodily injury coverage and $5,000 for property damage coverage for all the vehicles you own. Arrange for a $10,000 surety bond.
Get the appropriate license from the New Jersey Commissioner of the Department of Banking if you plan to offer financing to your customers to pay off their vehicle purchase in payments. Contact the Department of Banking to get an application and instructions about obtaining this license.
Go to the website of the New Jersey Motor Vehicle Commission and download a new and used car dealership license. Fill in the application and mail it to the address given on the website. Obtain the Universal Fingerprint Form which contains information you will need to apply for the fingerprinting process.
Complete the fingerprinting process. Apply for a fingerprinting appointment by providing the information given to you on the Universal Fingerprint Form you received in Step 5. Pay for your fingerprinting appointment through Visa, MasterCard, e-check, or money order. Schedule an appointment for your fingerprinting.
Submit yourself and your place of business to a full investigation by the MVC. Cooperate with all aspects of the investigation in order to qualify for a car dealer license.
Pay the $100 fee for a wall license and $257.50 for a set of five dealer license plates (prices as of 2010).