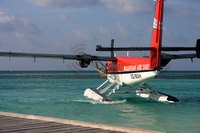 Company registration is the cornerstone of the Cayman's financial industry. A person planning to start a business in Grand Cayman must obtain a license under the Local Companies Law. If less than 60 percent of the business is owned by a Cayman citizen, a compelling case for establishing the business must be made before the Trade and Business Licensing Board.
A visitor is not permitted employment while in Grand Cayman, nor is a salesperson planning a trip to Grand Cayman. Non-Caymanians require a work permit for conducting business.
Things You'll Need
Computer
Internet connection
Names, addresses and phone numbers of principals and registrars of the business
Letter of good standing from a bank with whom you have at least three years experience
Certificate showing clear police record
Decide on form of legal formation. Sole traders (aka sole proprietorships) and partnerships are personally liable for any legal actions on their business in Grand Cayman. Incorporated companies in Grand Cayman have limited liability on officers and stockholders with third parties. Apply to the Registrar of Companies for company incorporation application.
Obtain a Trade and Business License (T&B License) if business is not at least 60 percent Cayman owned. Important to check to see if the proposed business requires inspection (e.g., restaurants) or planning permission (e.g., change of use from restaurant to retail store).
Acquire necessary work permits from Immigration. All businesses in Grand Cayman require work permits and/or other documents for any personnel engaging in gainful employment in Grand Cayman who are not Caymanian or not a Caymanian Status holder. If a business is not able to find a Caymanian to fill a job position, the Immigration Board will review a work permit application for a non-Caymanian to fill the position.
Acquire office or retail space on Grand Cayman. Office space is limited and expensive. Parking space is often for rent or sale and expensive. Trade and Licensing Board discourage use of residence for business address. If an apartment or condominium address is on the license application, written approval from the landlord and the manager of the property is required.
Arrange for telecommunications and computer equipment connectivity. Internet and telecommunication access on Grand Cayman is advanced (European standard) and relatively reasonably priced. Electrical power on Grand Cayman is 120 volts/60 cycle with the same plugs found in America, making equipment installation easy.
Hire and train staff for your business in Grand Cayman. It is best to involve the Cayman Islands Immigration Department at the beginning of your staffing efforts to make the entire personnel effort easier.