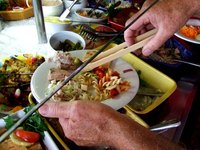 The restaurant industry has experienced a steady increase over the past few decades as the cultural dynamic in this country has shifted dramatically. Most people now work full time jobs in addition to raising children and taking care of the home. Rather than spending precious time preparing a meal at the end of a long day, many families and individuals opt to eat out. All-you-can-eat restaurants provide a value attractive to most families. Most of these buffets cater to those with modest incomes, yet provide dishes of a higher quality and greater variety than those found at fast food chains.
Things You'll Need
Business plan
Steady source of operating capital
Restaurant location
Menu
Kitchen equipment and supplies
State licenses and inspections
Planning and Getting Started
Create a preliminary plan. Secure a source of start-up capital to cover initial large expenses such as location rent, kitchen equipment, dining furniture, licenses/inspections, and food inventory. Use your preliminary plan to set a budget in writing. Assign a reasonable monetary amount to each necessary expenditure in your preliminary plan.
Choose a location for your restaurant. It should be visible and easily accessible to your target customers. For example, if you are near a popular vacation destination, chose a block that gets a large amount of tourist traffic. Additionally, all-you-can-eat restaurants have the potential to thrive in suburban, family-friendly locations and near college campuses.
Create your menu. Decide on offering the same food items each day in a buffet style or having a different menu for each day of the week. Keep in mind that to remain profitable when offering all-you-can-eat meals, you must either keep your food inventory costs low or raise the price of admission. One way many such restaurants keep down costs is to offer buffet items considered "filler," such as a salad bar and pasta.
Purchase kitchen equipment and dining furniture if necessary. If your location was not previously set up as a restaurant, you will need to buy kitchen and food preparation equipment such as an oven/stove, refrigerator, sinks, sanitation equipment, cooking utensils and baking pans. You will also need dishes and utensils for your customers to use. Obtain dining room furniture and arrange it in a way pleasing to your guests.
Obtain any food service licenses and inspections that are required by your state. Most require restaurants to file paperwork with their Department of State to obtain a food sales license. Check with your state's business regulatory agency or state elected official for information regarding your state's specific requirements.
Hire food service staff. At a minimum, your restaurant will need cooks and servers. If your restaurant is not family owned you will need to hire employees who have a track record for being dependable and offering excellent customer service.
Advertise your restaurant. Customers will not eat in your restaurant if they do not know that it exists. Place advertisements in you local newspaper or create a television commercial. Send out mailers with coupons to households located near your establishment. Anything that you can do to draw attention to your restaurant has the potential to bring in additional business.