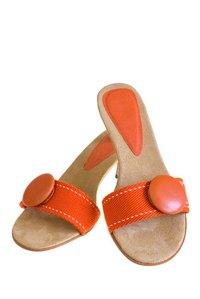 The wrong pair of shoes can ruin a perfectly stylish outfit, while the right pair of shoes can add the perfect finishing touch to an ensemble. Picking out the right pair of shoes depends directly on the style of the outfit, the color and the occasion for which you'll wear the outfit. You don't have to surrender your personal style in order to match shoes and clothes well.
Consider the occasion and whether it requires formal, business or casual clothes. For example, a wedding, bar mitzvah, funeral, bridal shower or homecoming dance requires formal clothing. A work-related event requires business attire. An event not related to work centered around friends or family warrants casual attire.
Select an outfit that is clearly formal, business wear or casual. For example, for a formal event a dress is suitable for women and a suit for men. For a business event, suits are appropriate for both men and women. For a casual event, jeans, shorts, T-shirts and khakis are suitable for both men and women; sundresses and skirts are acceptable for women.
Select shoes that match the style of the event. For formal events, pumps or high-heeled shoes are appropriate for women and dress shoes are appropriate for men. For business-related events the same applies, except that closed-toed styles of women's shoes are always preferable. For casual events, relaxed shoes like clean tennis shoes or sneakers, rugged boots or sandals are fine.
Select a suitable color of shoes in the style you've already determined. Black is a safe choice for business and formal events. However, if a woman is wearing a white or pastel outfit, white or off-white shoes are best; with a brown outfit, brown shoes are best. Black or brown shoes look good with navy blue. For men, try to match your shoes with your belt: wear black shoes with a black belt and brown shoes with a brown belt.
Wear metallic shoes or shoes with decorative patterns or charms for a formal or casual event if you're a woman and would like to wear shoes that express your personal style. Such shoes give your outfit a more distinctive appearance. Alternatively, women or men can wear shoes that match the outfit exactly: for example, red pumps with a red dress or green sneakers with green shorts.
Put on your outfit with the shoes you've picked out. Stand in front of a full-length mirror. Your shoes should complement your outfit or add a stylistic touch in a harmonious manner. Your shoes should not appear too distracting from your overall ensemble.