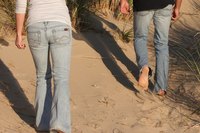 Sometimes a great pair of jeans can become too loose to fit properly. This change in fit can happen as a result of wear-and-tear or weight loss. If you need to make your loose jeans fit, taking a few steps will make your favorite denim look just right on you again.
Things You'll Need
Set your washer temperature to medium heat. A hot wash can shrink the cotton in your jeans, but you should start at a medium heat to slowly shrink them and avoid making them too tight.
Throw your jeans in the washer and wash them with the proper load size for at least a 30 minute cycle.
Set your dryer to a medium heat setting and toss your jeans in, drying them until they are completely dry. Throw them back in for another 5 or 10 minutes after they have dried completely.
Try on your newly-shrunken jeans and decide if they are to your liking. If so, then be sure you wash them on medium heat wash and dry temperatures at least once a week.
Turn the washer temperature to the highest heat setting if your jeans are still too loose, and wash them again for at least a 30-minute cycle.
Dry your jeans on the highest heat setting possible, and again, throw them in for another 5 to 10 minutes after they have dried.
Try on the jeans to see if they are to your liking. If they aren't, repeat steps 5 and 6 until they are and remember to keep washing them weekly in hot temperatures to keep them tight.