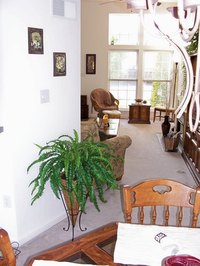 Assisted living facilities are designed to be home-like settings where elderly and disabled people can get individualized assistance as needed without giving up complete independence. These residents don't need to run errands because all their basic needs are met, so plan your marketing technique with that in mind. Marketing to assisted living residents requires understanding what is convenient to them in this type of a setting, such as using face-to-face marketing rather than Internet marketing, along with what will appeal to them.
Identify the assisted living facility that you want to market to and get permission to hang fliers, pass out brochures and come in for face-to-face marketing with the residents.
Speak clearly on your marketing materials like posters, brochures and fliers. The residents need to understand what you are selling within a few seconds. To do this, use a large, bold font and as few words as possible to get your point across.
Make it easy for residents to access your product by using face-to-face marketing and advertise that you will be back for them to sign up for your service or purchase your product.
Create a fun atmosphere by bringing a game or giveaway to entice residents to come purchase your product. Give away free coffee mugs or play BINGO with residents to draw them out of their apartments and to your products.
Follow up after the sale by giving individualized thank-you cards and asking for feedback.
Implement suggestions from the assisted living residents' feedback, making an effort to improve your product or marketing approach to better meet their needs.