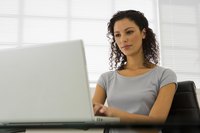 Launching a new marketing product involves a lot of planning and preparation. Business-to-business marketing, like business-to-consumer marketing, involves everything from getting the product produced and manufactured to determining the product's target market, developing and implementing marketing strategies and coming up with a way to finance these activities. The associated costs must be documented in a budget to ensure that a business has resources readily available for a successful launch.
Things You'll Need
Determine the target market for your new marketing product. Although you're undoubtedly marketing your product to businesses, narrow your market to decide if you're targeting a more specific niche or industry. These details will help you decide how many items you need produced and help you project sales based on the size of your market.
Pinpoint the costs to produce your new marketing product. Include any costs you incur for research and development, marketing and promotions, as well as costs for employee salaries and training. Production costs for an informational product, such as a book or an e-book, will likely be cheaper than costs for a hard product, such as a promotional tote bag or custom-made trade show banner. Include the costs of all materials, equipment and supplies if you're producing the product yourself. If you're working with a manufacturer, include all the costs you're being charged for production. Use your invoices to help you monitor what you're being charge.
Determine where you're selling your marketing product. A new marketing product could be sold on your website, in retail stores, at the local business association office or even right out of your office. Factor in how much it will cost you to ship these items to the locations at which you plan to have them sold.
Set sales goals and come up with tactics for reaching your target market. Reaching business owners with a new marketing product might involve hosting an event, hosting a webinar, attending a trade show, sending post cards to market your product, sending press releases and even cold calling. Assign a projected cost to each activity you plan to include as a part of your new marketing product launch.
Use a spreadsheet program like Microsoft Excel to outline your budget. Create the following vertical columns: "Activity," "Projected Cost" and "Actual Cost." Create horizontal rows and use the following titles: "Salaries," "Training and Education," "Research and Development" and "Marketing and Promotions." List activities and costs under the appropriate categories. Update the Actual Cost column after your product launch to see if the launch of your new marketing product was on target with your projected budget.