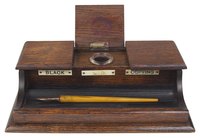 In 1929, Pelikan developed its first pen, a fountain pen with a pioneering piston ink filler (an internal screw mechanism). In the following decade, Pelikan began producing nibs, known for their flexibility and reliability. Since then, Pelikan has made a variety of other pens, including felt tip, ballpoint, and roller ball.
Because of its renowned craftsmanship, Pelikan pens may last an owner's lifetime, even be passed down for generations. A Pelikan pen owner might sometimes take apart a pen to clean it, refill ink, restore a part (such as a cap), or replace a nib.
How to Take Apart a Pelikan Pen
Take apart a Pelikan ballpoint, roller ball, or felt tip pen by first unscrewing the instrument in the middle. To remove the inside ink compartment (typically called a "refill") gently pull it out. Insert the new refill and screw the pen back together.
Take apart a Pelikan Tradition or Souveran series fountain pen by first uncapping the pen. These are piston filler pens, and their nibs are removable. To take out the nib, gently grasp it with a soft cloth or tissue (not a paper towel as it can scratch the gold finish on a nib) and carefully unscrew the pen (not the nib because you want the nib to remain steady, not roll and shift between your fingers). To insert a different nib, reverse the procedure.
Remove the cap, by unscrewing or gently pulling, to take apart a cartridge/converter fountain pen. Next, unscrew the barrel. If a cartridge is inside, simply pop it out. If a converter, gently pull or unscrew it.
Take apart a cartridge-only fountain pen by first unscrewing or gently pulling the cap. Cartridge-only pens have removable nibs. To remove a nib, follow the instructions in Step 2 above.
Take apart a Level series fountain pen by simply unscrewing or gently pulling the cap. These pens fill ink from a special bottle and do not use cartridges or converters.