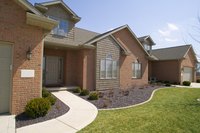 Running a homeowners association requires you to be able to read and understand the association's governing documents, be familiar with accounting procedures and have good organizational and communication skills. You will need to manage the finances, organize meetings, supervise contractors, work with attorneys and deal with homeowners. Running a homeowners association is a delicate balance between meeting the needs of the individual homeowners, the needs of the association as a whole and implementing the policies enacted by the elected board of directors.
Things You'll Need
Governing Documents
Budget
Governing Documents
Review the association's declaration. The declaration includes the description of the property, including what is the responsibility of the homeowners and what is the responsibility of the association.
Review the association's by-laws. The by-laws describe the procedures, responsibilities and authority of the association's board of directors.
Review the rules and regulations. Managing a homeowners association requires you to know the rules since you will be responsible for maintaining the community and enforcing the rules.
Administration
Analyze the budget. The budget will alert you to the basic functions of the association and projects that are anticipated to be completed during the year.
Manage the association's accounting. Each invoice should be logged into a ledger with an account line number that matches the corresponding line number in the budget.
Keep track of reserve funding. If the association has a reserve study or an account designed to fund a future project you should keep track of the balance and deposits.
Review all of the association's contracts. Review the expiration dates, monthly fees, basic services, additional services and terms relating to annual increases.
Create a filing system for meeting minutes. Files should be created for board and committee meetings.
Establish a process for homeowners to contact the property management or the board of directors. Homeowners should have a single point of contact to resolve a problem and a chain to follow to address unresolved issues prior to contacting the board of directors.
Organize committees. Committees should be made up of homeowners who are not on the board of directors. The function of a committee is to research a variety of matters and provide the board with information and advice. Some examples of committees include finance, landscape, social events and the establishment of rules for the association.