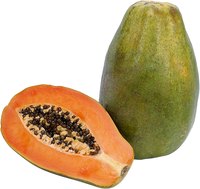 Facial peels that contain alpha hydroxyl acids (AHAs) are effective in exfoliating the top layer of the skin. They remove old skin cells and reduce roughness, uneven pigmentation and fine wrinkles. You can make homemade skin peels using fruits or their juices since many AHAs are derived from these products. Homemade acid peels are as effective as commercial brands, and will save you some money.
Things You'll Need
Peeled tomato
Plain unflavored gelatin
Orange juice
Restorative peel
Peel a ripe tomato. The acids in the tomato will help your skin maintain its natural pH balance. Cut into chunks.
Combine the tomato, one package of plain gelatin, and one tablespoon of orange juice in a microwave safe bowl. The AHAs in the juice will exfoliate your skin.
Heat the mixture until the gelatin is dissolved. Check the mixture after 30 seconds or more, depending on your microwave.
Puree the mixture in a blender or food processor until it is smooth and then, once it has cooled, apply a generous amount to your clean face.
Leave on 15 to 20 minutes until dry. Do not leave on for more than 30 minutes.
Peel off the mixture, and rinse your face with lukewarm water.
Fruit peel
Combine one cup of pineapple and 1/2 cup of papaya in a blender or food processor.
Puree the mixture into a smooth paste.
Add one tablespoon of honey to the mixture and apply to clean skin. Honey is an effective moisturizer for your face.
Leave the mixture on for about 20 minutes. Remove completely with a warm washcloth.