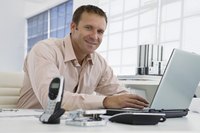 An EIN, which stands for Employer Identification Number, is issued to a business by the Internal Revenue Service, or IRS. The EIN is also sometimes referred to as a "Federal Tax ID Number." The IRS uses an EIN to identify a business and its activities. With a common name change there is no requirement for a new EIN. Instead, the EIN is just transferred over to the new business name. This also applies to businesses using a DBA, which is a fictitious business name.
Visit your local county clerk office or Secretary of State office where you initially filed your DBA form. Ask for a DBA Name Change application if you are changing the DBA name. If you are creating a whole new DBA, you should ask for a new DBA form.
Complete the form and submit it with the proper fee, as listed on the form. Fees vary from state to state, but range between $10 and $100.
Wait for a notarized copy of your new DBA form to arrive in the mail. Typically this takes 7 to 10 days. Make a copy of this once you receive it.
Type up a letter to notify the IRS of the change. Use company letterhead and include the name and tax identification number of the owner, the business name, the EIN, the mailing address and a copy of the new DBA form.
Send the letter in to the IRS. If you are in Connecticut, Delaware, District of Columbia, Illinois, Indiana, Kentucky, Maine, Maryland, Massachusetts, Michigan, New Hampshire, New Jersey, New York, North Carolina, Ohio, Pennsylvania, Rhode Island, South Carolina, Vermont, Virginia, West Virginia or Wisconsin, then you will send it to Internal Revenue Service, Stop 343G, Cincinnati, OH 45999 or fax to (859) 669-5748.
If you are in Alabama, Alaska, Arkansas, Arizona, California, Colorado, Florida, Georgia, Hawaii, Idaho, Iowa, Kansas, Louisiana, Minnesota, Mississippi, Missouri, Montana, Nebraska, Nevada, New Mexico, North Dakota, Oklahoma, Oregon, South Dakota, Tennessee, Texas, Utah, Washington, Wyoming, or any place outside of the United States, then you will send it to Internal Revenue Service, M/S 6273, Ogden, UT 84201 or fax to (801) 620-7116.