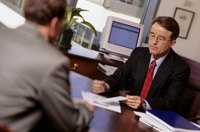 A career as a life insurance agent can be extremely difficult, but it can also be a source of continually increasing residual income that lasts a lifetime. If you choose to work with business owners and sell group life insurance policies, your commission for each new policy will be dramatically lower, but the additional volume of new policies sold will result in a higher overall commission income. Selling group life insurance is no easier than selling individual policies, but the potential for additional product sales is significantly higher, which makes working with businesses very attractive and potentially profitable.
Things You'll Need
Life insurance producer license
Carrier appointment paperwork
Obtain a life insurance producer license in your state of residence. You can do this by attending a life insurance training class and passing a state-mandated examination and background check. Successful completion of the exam demonstrates to your state's insurance department that you are familiar with the rules and regulations surrounding the sale and solicitation of life insurance policies.
Get appointed with a carrier. Contact the life insurance company that has products you want to solicit to business owners and request a new-agent appointment kit. The carrier will mail you a package containing the necessary forms and information you will need to become an approved representative.
Familiarize yourself with the product. Once you receive the insurance company's approval of your agent appointment, visit the carrier's website to download marketing and training materials about the group life insurance product you want to solicit. Learn the specific details of how the product works, and become familiar with every aspect of the policy.
Begin prospecting. There are countless ways to search for potential new clients, but there is no secret method or magic formula. Examine the prospecting methods available to you based on your time and budget constraints, then implement one or two of them. By consistently following the prospecting process of your choice, you should soon begin to see positive results and successfully book initial presentations with business owners.
Present your carrier's group life insurance product to new prospects. At your initial meeting, explain to the business owner the benefits of adding your carrier's product to his company's existing employee benefits package. Describe the basics of how the group life insurance product will work, and mention any additional features that are not obvious.
Complete the paperwork. Once your business owner prospect has agreed to include your carrier's group life insurance product in his company's employee benefits package, complete the necessary application documents to begin providing the insurance protection to employees.
Submit completed applications. After you have filled out and completed all required paperwork to insure the company's workers with your carrier's group life insurance product, mail the documents to your carrier's New Business Processing Department.