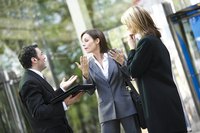 Working with a team is a fundamental life skill. Whether you're developing a project at your job, playing baseball in a local league, enjoying an online game or coordinating your family in a household project, you need to be able to function efficiently as a group. Internal conflict can be poison for a team dynamic; learn to identify the warning signs and stop a potential conflict before it starts. You'll keep the project on track and prevent any hurt feelings from spilling over.
Set clear responsibilities for each team member. Everyone needs to know who is in charge of what and what each person is expected to accomplish. Not only does it keep the boundaries clear, but it allows you to identify areas of overlap, where team members may butt heads or come into conflict.
Establish open lines of communication, and ask team members to use them. Identify who the team leader is and set a proper protocol for airing differences. Encourage other team members to talk about potential issues as soon as they recognize them. The more regularly team members use such avenues, the more readily they will turn to them when trouble arises.
Listen to other team members when they have a concern. This goes hand in hand with offering avenues of communication. Every team member is different and may have diverse views on how to address a specific issue. Listening acknowledges those differences and gives team members a chance to air their thoughts, while helping you further understand all of the dynamics involved.
Stay constructive. When problems arise, turn team members away from assigning blame and towards seeking solutions. Start by identifying the source of the problem--whatever it is keeping the project from moving forward--and talk with the team about potential solutions. Allow everyone to mention possible options; then discuss means of implementing them. That keeps the team unified and pointed in the same direction--looking to each other for help rather than pointing fingers.
Stage an intervention when you see friction between team members. Mediate the discussion to keep things civil and allow each member to speak his mind. As with addressing problems, keep things focused constructively. Work to identify the root of the conflict, and propose solutions that ease the friction. In some cases, a controlled venting--kept civil and constructive--is all that is required to ease tensions and prevent the conflict from escalating.