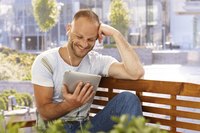 With the rising penetration of smartphones and increased access to Wi-Fi, more people are listening to audiobooks while commuting or working out. For an author, an audiobook can provide a long-term income stream. Moreover, there's less competition in the audiobook market than in physical books. Even if you get a book deal from a print publisher, hold onto the rights to produce and distribute an audiobook. How to sell your audiobook over the Internet depends largely on whether you self-produce.
Online Commercial Marketplace
According to J. Daniel Sawyer's 2013 book "Making Tracks: A Writer's Guide to Audiobooks," the major online retailers for audiobooks in the United States are Audible, Amazon, Audiobooks.com, Barnes & Noble, Emusic.com, SimplyAudiobooks.com, SmartEbook.com, iTunes and LearnOutLoud.com. A subsidiary of Amazon, Audible is the largest audiobook distributor and is both a direct retailer and the exclusive distributor for iTunes and Amazon. Industry estimates for Audible's control of the downloadable audiobook market range from 70 to 90 percent. While Amazon sells physical CDs from third-party publishers, Simplyaudiobooks.com follows the Netflix model, renting physical audiobooks via post as well as selling downloads and CDs on its website.
Distribution for the Small Publisher
As a publisher, you can sell your books online as downloadable files or as physical media. The choices of how to distribute your audiobook online include Android and iPhone app stores, music distributors, Amazon's Audible Audiobook Creator's Exchange, Overdrive and small-press aggregators. Each distribution route has pros and cons, and your choice of a distributor will depend on your business strategy, profile as an author and financial resources. For example, you can hire a software developer to build an mobile application to deliver your audiobook via iPhone and Android app stores. However, you'll need to pay the developer upfront unless you can do the coding yourself.
Audiobook Creation Exchange
If you're unable to self-produce, Amazon's Audible Creator's Exchange Service, also known as ACX, provides an end-to-end solution for a small publisher. Through the Exchange, you create your audiobook and then distribute it on Amazon and iTunes. You choose to either pay talent -- voice acting -- upfront and retain all the rights or opt for a royalty split with the producer. If you go for the royalty split, the Exchange retains exclusive global distribution rights for seven years. Not only does the Exchange keep 60 to 75 percent of your profits, but Amazon can change your audiobook's price point at its discretion. Also, you're restricted to uploading your audiobook at a sample rate of 22.050 kHz or low fidelity, according to Jane Friedman, the former publisher of "Writer's Digest."
Opting for the Spoken Word
If you self-produce, you can sell your audiobook via an online music distributor, such as CD Baby or Tunecore. These players can distribute your audiobook to retail giants -- iTunes and Amazon -- in the spoken word category. Note that iTunes and Amazon will not respect the price point you set for your book on CD Baby. Because CD Baby also has an online storefront, you can sell your audiobook directly to consumers. The major advantage of an online music distributor is that you keep most of the commission on sales revenue. While CD Baby takes a 9 percent cut of your sales, TuneCore's commission is zero. In addition, music distributors typically allow you to upload your audiobook at a sample rate of 44.1 kHz -- a much better quality than an Audible file.