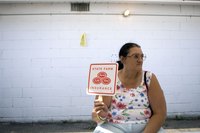 A house fire can be devastating. It can leave you with no home and little personal property. Some items--such as family photo albums, heirlooms and important documents--can't be replaced. If you have homeowner's or renter's insurance, you can get reimbursed for the monetary value of your house and belongings. Insurance companies such as State Farm make it easy for you to file a claim.
Open your web browser and visit State Farm's website. There is a link in the References section.
Select your state from the drop-down menu and click "Report."
Choose "Property" and click "Continue."
Enter your policy number and the contact information connected with the policy. Enter the information exactly as it is shown on your insurance card, regardless of whether the damage occurred at that address. Select the state in which your damaged property is located (this may be different from your mailing address) from the "Risk Location" drop-down menu. Click "Continue."
Enter information about your damaged property, including as much detail as you can. This is important in determining how much your insurance company will pay. Follow the on-screen prompts to finish your claim.