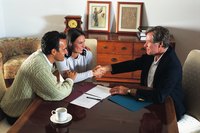 There is no doubt that insurance coverage is important, and every adult with a family to protect should have sufficient insurance coverage in place. But even when that coverage exists, it can be difficult for the beneficiaries of the policy to collect the money they have coming. Some people, for instance, purchase a life insurance policy, pay the premiums and neglect to inform the beneficiaries. After a death, those left behind may not know where to turn for information about the original policy and any benefits it may provide.
Things You'll Need
Look for paper copies of any insurance policies. In addition to looking in the deceased person's home, ask bank representatives about any safe deposit boxes that were rented by the deceased person.
Check financial records and checkbook registers for the name of the insurance company. Then contact the insurance company to inquire about any policies that may have been in place. Give the representative the person's Social Security number, but keep in mind that privacy laws may prohibit the company from giving you information unless you are the spouse of the policyholder.
Contact the treasury or revenue department for your state to search for any abandoned property that you may have. After a period of inactivity, bank accounts, unclaimed insurance proceeds, etc. will be turned over to the state for disposition. The states are required to keep a database of this unclaimed property so consumers can find any property they may be entitled to. If the property is not claimed within the time period specified, ownership of the assets reverts to the state.
When checking state unclaimed property records, search both the state where you live and any states where the individual policyholder may have lived.