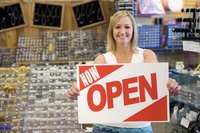 One of the best ways to introduce your new company to the public is to write and submit a press release, also called a news release, regarding your business. A news or press release can help get the word out about who you are, what you do and who will benefit from what your business offers. Submitting this information to various media outlets could prompt an interview, which helps get the news about your company out to the public.
Create a title of no more than 10 words that summarizes your business idea or purpose.
Introduce your business with a general description of your product or service. Identify where you are located if you are a brick-and-mortar business -- for instance, "ABC Corporation, a new janitorial services company based in St. Louis, Missouri..."
Describe your company's target market and why you chose to serve this market. Make sure that anyone who reads this press release will clearly understand the purpose of your company.
Keep the release short -- 400 words or less. Avoid technical language when introducing your company to the public because you don't want to lose a reader's interest. Write in layman's terms whenever possible.
Identify the owner of the company and provide some background information regarding how she came to start this new business. If there is a fun or interesting story, add that to the release.
Include contact information for someone at your business who will act as a publicist for the company. List a name, phone number and email address. This person will field calls and email from the media and the general public regarding your business.
Send your press release to local newspapers, radio stations and organizations within your industry.
Submit your release to an online press release service, such as PRLog or PRWeb. Make sure you select a category that accurately fits your business type so that interested parties in your industry can easily access the release.