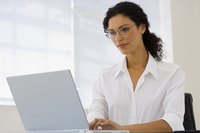 In today's technological age, it's almost unheard of for a business to have no email address. An email address provides a business with a way to communicate with vendors, customers and other businesses. It's actually quite simple to create an email address, customized for your business. It requires that you buy your own domain name. With your domain name, you can create your own website and/or email address. Most names will only cost between $10 and $20 a year.
Search for a reputable domain registration company. By using a domain registration company, you will be able to purchase your own customized domain name. This allows you to create a customized email address for your business. Try GoDaddy, Network Solutions or My Domain to compare levels of service and costs.
Go through the steps to register your domain name. During this process, you will be prompted to enter a name for your domain. An example of a business domain would be www.daffodilsandfroggies.com or www.primetimenetwork.com. Use the name of your business to create your own domain.
Create your business email address by using the same company who sold you your domain name. You may be offered to set up this service once you complete the domain purchase. If not, you will have to begin the process yourself.
Visit your new website by entering your domain name into your internet browser's address bar. For example, if your domain is daffodilsandfroggies.com, then enter www.daffodilsandfroggies.com into the address bar.
Look for a section that asks you to create your own email address. Click here to enter some basic information in order to create your business email address. An individual can be the first part of the email address, and your domain name will be the second part. For example, your email address could be monica@daffodilsandfroggies.com. This is professional and customized, and looks great when you advertise. You can also create a general email account for your business, such as info@daffodilsandfroggies.com.