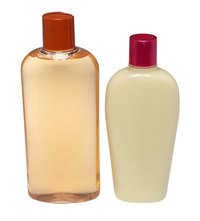 Washing twist braids seems scary because of how difficult it was to twist the hair into braids in the first place. Some people go weeks without washing for fear of the braids untwisting and falling out of place. If a couple braids do, the whole look has to be taken out. But not washing your braided hair threatens your scalp with dandruff and dryness. There are steps you can take to ensure your twists are healthy and enduring.
Things You'll Need
Wash your hair with a diluted shampoo. Diluting the shampoo lowers the viscosity, helping prevent any of the shampoo from wedging into the twists of the braids and not being washed out.
Use your fingertips to massage the shampoo over the scalp, avoiding the braids as much as possible. Don't take hold of the braids and clean them. The important area to clean is the head, which is where most of the dryness and buildup of dead skin occurs.
Thoroughly rinse out with water, using your fingertips again to part your braids for the water to seep into all areas of your scalp.
Use a light conditioner and follow the instructions on the bottle. The reason for a light conditioner rather than a heavy, creamy one is the same as for diluting the shampoo: so it all easily washes away from your scalp and braids.
Gently rinse the conditioner out.
Pat your head and braids dry. Avoid rubbing or massaging with your towel, which will damage your braids or cause frizzing.
Apply a leave-in conditioner to keep your braids moist throughout the day.
Twice a week after washing your hair and when you've patted all the water away, massage your head with a light oil to keep it healthy.