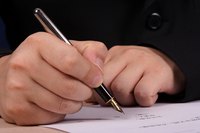 Minutes are a legal, official record of the proceedings and actions of a business meeting. Its purpose is to describe actions, milestones and deadlines and record voting results. Roberts Rules of Order, Article 10, is a set of parliamentary procedures to take minutes. It's the minutes-taking standard many businesses adopt. It consists of an informative introduction, a body, and a closing written in paragraph style and any necessary attachments.
Introductory Paragraph
Write an opening statement that specifies the meeting type, such as a regular board meeting, an annual shareholder or member meeting or a special meeting. It must also include the organization's name and the date, location and end and start time of the meeting..
Specify if the company president or chairperson and the secretary attended using their titles or given names. List the names of other members present or require attendees to sign in. Include the sign-in sheet as an attachment.
Verify that the minutes of the last meeting were read and either approved or corrected. State whether total attendance was enough to establish a quorum if one or more motions required that voting takes place.
Body Paragraphs
Present each main motion discussed in the meeting in a separate paragraph. Record the exact wording used in the motion. Name the person making the motion and include a roll call record specifying who and how each person voted.
List the reports read during the meeting with its title and the name of the presenter. Describe further actions taken or recommended. Include a copy of a written report as an attachment or a brief, objective summary of an oral report.
Record all other actions in a brief summary paragraph. This includes assignments, deadlines, recommendations and any resolutions adopted during the meeting
Closing Paragraph
State the time the meeting adjourned.
Sign the minutes using your name and title
Add a reference if the minutes included separate attachments.