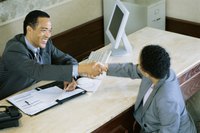 Having a hold placed on your bank account can be frustrating and disruptive. Holds happen for a variety of reasons, from judgments against you, to a bank error. The way to stop the hold, or remove it after it happens, depends on the reason the hold was placed on your account in the first place.
Stay on top of your financial records. The tricky thing about bank holds is that if the hold is the result of a levy against your account, you won't know that it is coming until the hold is already in place. Ignoring debts, even if you cannot pay them at the time, could lead to a creditor getting a judgment against you without your knowledge, and consequently, your bank account being frozen. Stay in contact with your creditors so you can anticipate, and work to avoid, any such holds being placed on your account.
Keep all your accounts in good standing. If you have multiple accounts in a bank, and one account becomes overdrawn, your bank may place holds on your other accounts, and hold all of your deposits until the over-limit amount and any associated fees are settled.
Avoid depositing personal checks when possible. Most banks place a hold on, at least, a portion of the funds from a deposit of a personal check, including paychecks, until the check has cleared. The reason for this is that if the check was written on an account in which there are insufficient funds, you will be responsible for the paying the amount of the check and the associated bounced check fees. Whenever possible, get paid via direct deposit or wire transfer, or make your deposits in cash, all of which clear without any holds.
Understand bank policy. Ask your bank about their hold policies so you can anticipate any situation that may arise. If you have a relationship with your bank and good history with them, they may be willing to waive holds in certain situations.