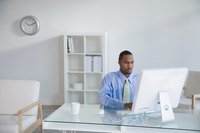 If you are new to Forex trading and have downloaded the MetaTrader 4 software platform, then you are off to a good start. This brilliant tool allows you to make trades right from the charts, and gives you visual indicators such as letting you know where you have placed your buy and sell orders. Best of all this easy to use platform can even automate your trading system using well-known technical indicators such as My Macd.
Things You'll Need
Forex broker with demo or real account
Download and Install MetaTrader 4. You can get it with a free demo account from a number of brokers including FXCM.com, FXOpen.com and InterbankFX.com. One advantage of getting it from FXOpen.com is that the demo is unlimited. With most of the other brokers the demo account expires after 30 to 60 days. If you wish to open up an account with real money, some brokers require a minimum deposit of $2000, while others have no minimum.
Install MetaTrader. Once you've installed it you will need to reboot your computer. After you've done this launch the application. When it is open go to file "New Chart" and click on the forex pair that you are interested in trading.
Add the Expert Advisor (EA). Go to "View" and click "Navigator." This will bring up a window. Scroll down until you see the heading "Expert Advisors."
Add the Macd indicator and configure the EA. Under the "Expert Advisors" heading you will see an indicator labeled "Macd Sample." Either right-click on this and click "Attach to Charts" or drag and drop it to the chart of the currency pair.
Set the EA up to autotrade. Once you've attached the EA to the chart, it will bring up a window called "Inputs"; to change any of these, left-click once and you can change the value within the boxes. If you don't know what you are doing then leave the values at default settings. If you do know then adjust the position-sizing and stop losses to your tastes. Then click "Common" and make sure the drop-down box is set to "Long and Short." Make sure "Enable Alerts," "Allow Live Trading," "Allow DLL Imports" and "Allow Import of External Experts" are all checked. The rest of the boxes should remain unchecked. Then click "OK."
Check the upper right-hand corner of the screen. If everything is set up correctly, there will be a white smiley face there. If it isn't then there will be a frowning face. If there is an X then just click on "Expert Advisors" on the toolbar. If it doesn't seem to be working, check that everything is set up correctly under the "Common" setting.