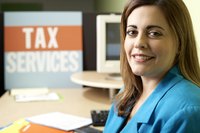 Schedule K-1 is a listing of income that has passed through an entity, generally a partnership, to individual investors. If you invest in a partnership, you will receive a K-1 at year end which outlines your share of the partnership's income. Unfortunately, Schedule K-1 can have a number of entries that are difficult for the average investor to decipher, and you may consider consulting a tax adviser to help you file your taxes correctly if you invest in a partnership.
Assemble all of your K-1s. If you invest in more than one partnership, you will receive a K-1 from each investment and it is important to wait for all of your K-1s to arrive before you file your taxes. If you invest in a partnership via an Individual Retirement Account (IRA), you will receive a K-1, but you should not include this information on your taxes, as the IRA is a tax-deferred account.
Verify the data on your K-1s. Although the year-end tax documentation that companies mail out is generally accurate, K-1s are notorious for being difficult to complete correctly. As a result, most K-1s are not mailed out until early March, unlike the late January time frame when other tax forms, such as 1099s, are usually mailed out. Even with the help of a tax adviser, it may be difficult to verify all of your Schedule K-1 entries, but you should at least check for obvious mistakes, such as a wrong Social Security number or an inordinately large distribution.
Transfer K-1 data to Form 1040 and file your taxes. Entries on much of Schedule K-1 are filed on your taxes as if they were non-partnership income. For example, ordinary dividends from line 6a are entered on line 9a of Form 1040 and capital gains are listed on line 12 of Schedule D, much as they would be if you earned capital gains or dividend income on a stock. However, the ordinary business income listed on line 1a of Schedule K-1 will be reported differently based on your involvement with the partnership. If you materially participated in the business, report line 1a income on line 28, column (h) or (j), of Schedule E, "Supplemental Income and Loss." If you did not materially participate in the partnership, you will generally report your line 1a income on line 28, column (g), of Schedule E. However, if the box in item D of your Schedule K-1 is checked, you have invested in a publicly-traded partnership and must follow the more complicated filing rules outlined in the IRS instructions for Schedule K-1.