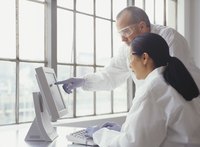 Before seeking funding for your new invention, you should first have a quality working prototype. Then you need to apply with the U.S. Patent and Trademark Office (USPTO) for a Provisional Patent Application (PPA). This protects your idea for one year while you explore your options. Next, you need to decide whether you want to license your invention to an existing company or start your own company and manufacture the product yourself.
Do your research. Find out how much it will cost to manufacture your invention and how much profit will be made from it. Redesign it if necessary to reduce production costs.
License your idea to a large company. Licensing means you sign over your rights to another party for your idea for a set length of time. In exchange, you will be paid royalties for each item sold. The percentage you will receive for royalty payments is negotiable. The company you are licensing your idea to will provide the funding for the research and development of your invention.
Ask your relatives. If you plan to bring your invention to market yourself, you will need plenty of start-up money. Most inventions and small start-up companies are funded with small loans from family and friends.
Submit your idea to edisonnation.com. Edison Nation is a web portal linking inventors with companies via what they term as Live Product Searches. The way it works is a company makes a request for a type of product it is looking for, and inventors respond. If the company likes your idea, Edison Nation sets up a licensing deal and pays you an advance plus royalties for 20 years. There is a small fee to pay to submit your idea.
Search and apply for grant money from a private foundation. Check out foundationcenter.org/findfunders/.