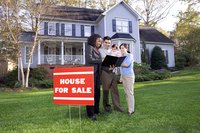 On the day that you host an open house event, everything can be a blur. Realtors meet lots of people with a variety of interests and needs. Not all of the house hunters who attend your open house will like the property. However, that doesn't mean you can't attempt to sell them another one. In order to keep up with their different interests and needs, and to convert some of the unimpressed leads into actual sells, your sign-in sheet should gather as much information as possible without consuming too much of the leads' time.
Place the address of the property at the top of the sign-in sheet. This is especially important if you host a lot of open house events. By listing the address on the sheet, you will know which property your leads are interested in.
Print fields on the open house sign-in sheet that gather the leads' names, addresses, telephone numbers and email address. This will ensure that you have the necessary information to follow up with people after the open house event.
Put "check box" options on the sign-in sheet to allow the leads to check off their current real estate needs. For example: "Planning to buy immediately;" "Planning to buy within the next three months;" "Just window shopping."
Provide "check box" options on the sign-in sheet to gather the current living arrangements of the leads. For example: "Currently renting;" "Own my home."
Create a field on the sign-in sheet that asks, "How did you hear about this property?" These answers can help you find out which marketing strategies are working for you and which ones are not.