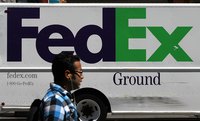 FedEx Corp. is a worldwide courier service. The company offers a diverse variety of shipping options, such as overnight or same-day delivery, to meet the business needs of companies of all sizes and types. You can set up a business account to manage your business's shipping needs using their online tools.
Things You'll Need
Computer
Internet connection
Go to the FedEx website. You can sign up for a business account using their online registration process.
Click on the "New Customer Center" link in the "Guide to Services" area on the left side of the page.
Download the FedEx Welcome Kit. It explains the services, tools, and resources that will be available for your use.
Click on the "Apply Now" button to open a new account.
Click on the "Sign Up Now" link to get a user ID and password. If you are already a registered user, simply type in your User ID and Password.
Enter your registration information. You will need to enter your contact information including your name, address, city, state, zip code, country, phone number and email. You must also create a user ID and password as well as set up a security question for your account.
Make sure to select the "Open a FedEx Account" in the "Confirm Your Selected Account Option" section.
Set up your account information. Verify that this is a business account and provide your credit card billing information.
Receive your account number.
Sign into your new account and start shipping.