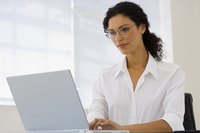 The cover letter is one of the most important parts of any proposal, as it is your opportunity to make a good first impression on your potential employer or client. That first impression will greatly affect your chances of acceptance, so it is important to create a clean, competent cover letter that is professional and noticeable. The standard cover letter is one page with three paragraphs.
Write your name and contact information (including your address, telephone number, email address, and employer) in the header.
Address the letter to the correct person. Avoid addressing the letter "to whom it may concern," as this shows a lack of professionalism and ability to do research. Find out who reads the proposals by either doing some research on the organization's website or calling the organization to ask.
Grab the attention of the reader in the first paragraph. You want to create an instant connection with the reader, and make them curious enough to continue to read the rest of the cover letter. Try using a quote, statistic, or question relating to your proposal. From there, you can directly state the purpose of your proposal. Your opening paragraph should also include information on how you learned about the company or organization, and some brief information about yourself.
Explain your credentials and background in the second paragraph. Show that you've taken the time to research the organization by explaining how your credentials and experience will benefit the company. Use specific examples. If you're submitting a proposal to a dairy cooperative, for example, explain how your experience milking cows for 17 years and your experience as a manager of a local bank can make you a valuable asset to said dairy cooperative.
Indicate your interest in working with the organization in the third paragraph. Explain that you will either follow up the proposal with a call to the organization or ask the reader to respond by contacting you to schedule an interview. Offer to supply additional information if the organization requests it.
Close the letter. Indicate that you have enclosed your proposal with the cover letter. Thank the organization for its time and consideration. Include your signature at the bottom of the letter.