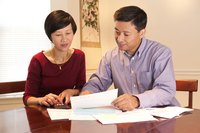 A land contract is a private mortgage agreement between the owner, or seller of a home, and the buyer. The basic premise of a land contract is that the buyer is borrowing from the seller versus a bank or other financial institution. Getting a mortgage for a land contract involves a slightly different process than for a traditional mortgage and should involve the assistance of private attorneys for both parties.
Things You'll Need
Copy of state laws regarding land contract sales
Land contract agreement
Copy of property tax bill
Private attorney (optional)
Buyer personal and financial information (optional)
Instructions
Review state laws regarding land contract sales. Visit the Real Property section of your state website and review laws pertaining to land contract sales. Pay close attention to interest rate limits and procedures for buyer or seller default. Check the wording of a sample land contract and become familiar with specified terms and conditions. Educate yourself and know what you are getting into as a buyer with a land contract mortgage.
Negotiate a sales price, interest rate, contract terms and length. It is important to keep in mind the purchase price and interest rate for a home selling on a land contract is may be higher than with traditional financing. Additional items typically included in a land contract negotiation include down payment (usually 10-20% of the purchase price), monthly payment (usually 1% of the beginning balance) and payment due date, whether the land contract includes a grace period for late payments, prepayment options and finally, whether a balloon payment will be the final payment.
Most land contracts do not run as long as traditional mortgages. For example, a land contract could run for a length of 60 months (five years), after which time the buyer makes a final balloon payment and the land contract ends. This can be attractive if you are looking for a land contract mortgage because you do not qualify for traditional mortgage financing. The five-year period can give you the time you need to restore your credit and qualify to finance the balloon payment. Keep in mind, however, that if you cannot make the final balloon payment you are in default and can lose your home.
Determine time-frame for deed transfer. Legal ownership of the home normally does not occur until the land contract ends. If you can negotiate for early deed transfer, the seller will most likely retain some type of legal interest in the property during the remainder of the land contract.
Decide who is responsible for payment of taxes and insurance. First, ask for a copy of the previous year's tax bill to verify the amount. Options for tax and insurance payments include the buyer paying taxes and insurance, the seller paying the tax and insurance bill and then adding the amounts paid to the balance of the loan, or the buyer or seller paying taxes and insurance out of an amount put in an escrow account. The final two options are more attractive to sellers as they ensure taxes and insurance remain current on property they still legally own.
Review terms of land contract with a private attorney. Regardless of how well you have done your homework, it is not a good idea to sign a land contract agreement without first having a real estate attorney review it.