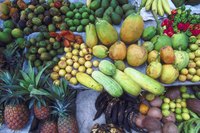 Many foods that are sold commercially are manufactured by small and medium-sized, independent companies. From cookies to juices and spices, most foods can be prepared for commercial sale without the need to own a large manufacturing facility. In some areas, even home kitchens qualify for use as a commercial food preparation facility, as long as they are set up to meet certain health requirements. In order to prepare food for commercial sale, you will need to do some research into your state's guidelines.
Obtain a food handler's permit from your state's Department of Health. In some states, you may also be required to get a food manufacturing permit. The fees for these vary by state, and in some areas you can take your food handler's permit course online.
Purchase food-safe, FDA approved food packaging containers from a company such as Nashville Wraps, Paper Mart, or South Pack.
Rent a commercial kitchen or prepare your own kitchen so that it meets your state's requirements for food manufacturing. In some areas, food that is prepared for commercial sale cannot be made at home,while in other states there are very strict requirements for home-based commercial kitchens.
Label your food products as required by the FDA--their food labeling requirements can be found on the FDA's official website. For most foods, manufacturers are required to include nutritional value information along with a list of ingredients.
You will have to develop and design your own labels--if you do not have graphic or print design experience you can hire a freelance designer or a local graphic design firm that has experience working with food companies.
Have your food labels printed by a company such as U-Printing, Labels by the Sheet, or Lightening Label. A variety of label styles and inks are available, including those that are waterproof.