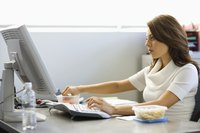 QuickBooks' versatility allows someone with little or no bookkeeping background to track income and expenses, write checks, create purchase orders and invoices, and more. QuickBooks' report-creating capability allows you to easily create, display and print income summary and detail, balance sheets and profit and loss statements. If the report templates do not happen to provide the exact information you need, you can customize your reports.
Select "Reports" at the top of the QuickBooks screen. You will see a Reports icon in the row of icons at the top of the screen. You can also see Reports in the toolbar just beneath that row of icons. The Report Finder dialog box will appear
Choose the type of report you want. Use the drop-down box at the top left of the Report Finder dialog box to select your report type. Choices include Customers & Receivables, Vendors & Payables, Accountant & Taxes and Budget, among others.
Select the report you desire. For Customers and Receivables, for example, you can create a Collections Report or a Customer Balance Summary, among other selections. For Accountant & Taxes, you might choose to create an Audit Trail, General Ledger or Income Tax Summary, for example.
Select "Customize" at the bottom of the dialog box. A Customize Report dialog box will appear. You can choose whether to use the cash or accrual method of accounting here. You can also specify which dates the report should include.
Choose filters for your report. If you want to filter your results, click the "Filters" button at the top right of the dialog box. You will then see a Report Filters dialog box. From the Add Filter drop-down menu at the lower left of the box, you will be able to choose by Account, Payment Method, Due Date, or Paid Status, for example. This allows you to include only the data you need in your report.
Refine your report further. From the Customize Report dialog box, choose the "Advanced" button. The Advanced Options dialog box will appear. You can choose which types of data to display in rows and columns (Active, All or Non-zero), as well as which reporting calendar you prefer (Fiscal Year, Calendar Year or Income Tax Year).