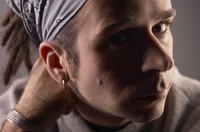 A fashion statement dating back to ancient Egypt, pierced ears are popular among modern-day women and men alike. It is important to get pierced in a clean environment with sterilized tools by a trained, knowledgeable professional. To promote healing and stave off bacterial infection, follow a daily cleaning and care regimen. Keep in mind that earlobe piercings can take six to eight weeks and ear cartilage piercings can take four months to a year to heal.
Things You'll Need
Cotton gauze or disposal paper towels
Sterile saline solution
Mild, fragrance-free liquid soap (preferably antimicrobial)
Wash your hands with soap and water and dry thoroughly before handling the piercings.
Apply a sterile saline solution to the piercings with cotton gauze or a paper towel. Create your own saline solution by dissolving 1/4 tsp. non-ionized sea salt into 1 cup warm distilled water. Leave the solution on for five to 10 minutes, and then rinse the area with water.
Wash the area with a small amount of mild, fragrance-free and preferably antimicrobial liquid soap. Lather the area gently for 30 seconds, giving special attention to any crusty areas on the ear or earring. Then rinse the area with water to remove soap and crusty areas.
Dry piercings with disposable paper towels. Cloth towels can hold bacteria and snag on piercings.