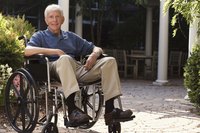 Many employers offer 401(k) plans to help their employees save for retirement. However, the Internal Revenue Service has strict rules for early distributions to prevent people from abusing the tax advantages of 401(k)s for purposes other than saving for retirement. Typically, if you take a withdrawal from your 401(k) before age 59-1/2, you will have to pay a 10 percent penalty in addition to any taxes owed. However, if you suffer a permanent disability, your withdrawals may be exempt from the penalty.
Things You'll Need
Determine if you meet the criteria for being totally and permanently disabled. According to the IRS, a doctor must document that you cannot perform "gainful activity" because of your condition. Also the condition must be expected to last non-stop for at least a year, or the condition could cause your death.
Gather your 1099-R forms. These forms will be sent to you at the end of the year by the financial institutions that have custody of the 401(k) plans from which you want to withdraw money.
Complete Form 5329 to document your cause for the early withdrawal. Next to line 2, write the number "03," which is the code for a qualified withdrawal due to permanent disability.
Write the amount of your distribution on line 16a of your Form 1040 tax return, but do not include it in your taxable income on line 16b.