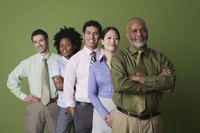 Running your own business means having employees and having employees means you will need to compensate them for their work. Salary isn't the only cost of having employees, however. In addition to salary you will need to pay recruiting expenses, retirement, health insurance, dental benefits, tuition reimbursement, unemployment, social security, life insurance and anything else which you deem appropriate for your employees such as a uniform allowance.
Things You'll Need
Industry estimates on base salary
Obtain a copy of the statement of accounts for your company. You will need to know what the spending is for certain expense categories. If you do not have employees and this exercise if for planning purposes, estimate the expense categories to the best of your ability or ask a similar business what their average employee expenses are.
Calculate all costs associated with recruiting. The more technically savvy your employees need to be, the more you will need to spend trying to find them.
Look up basic salary expenses or estimate what you can afford to spend per employee by polling people in the same industry.
Add employment taxes. Currently Social Security/FICA is 6.2 percent on the first $90,000. Unemployment or FUTA is 6.2 percent ($7,000 cap) and Medicare is 1.45 percent with no cap on salary.
Add in benefits. Typical benefits for a $50,000 salaried employee including life insurance, health coverage, dental plans, dependent care assistance, tuition reimbursement and retirement plans is $10,000 per year.
Add all expenses together to calculate total employee costs.