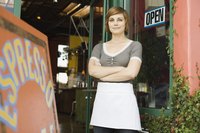 Finding willing investors for a new business is never easy--and it has become much more difficult with a shrinking American economy. However, it is still possible to get investments from venture capitalists, family and others when the business is presented in a good light and the potential returns for the investment seem likely and large enough. Ultimately the single most important thing an entrepreneur can do to entice investors is to develop a clear and measurable plan for business growth and a strategy to achieve that growth.
Attracting Investors to a New Business
Prepare a clear business plan. Any start-up should begin with a business plan. A business plan is a document that forecasts how the business will operate. This includes the general design of the business, i.e, how does it make money? A business plan also should include pro forma financial statements that forecast expenses, revenues, and assets for the business over a period of years. The business plan serves as a road map for the entrepreneur and shows an investor that a method for success is in place.
Declare your own investment in the business. Investors are much more likely to invest in companies when the entrepreneur has invested his own money. Incentives for success are much greater when the entrepreneur stands to lose his own money if the venture fails--or make a considerable profit on his investment if it performs well. Many investors prefer to put their money in companies where executives own large amounts of stock.
Present a clear plan for how the investment would contribute to the growth of the business. As basic as it sounds, the pitch for an investor needs to show that his money will improve the business. For example, the added investment might be critical to opening a new revenue channel. However, an investor is unlikely to give money to a business where it appears that the money would only go to keep the lights on or to maintain the existing operation. Broadly speaking, investments for capital expansion are more likely than investments to pay for day-to-day operations.