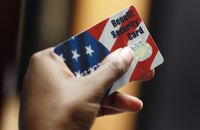 The food stamp program is a federally funded program that provides food to low-income families that meet the eligibility requirements. Each state administers the funds through state departments or local agencies and must follow federal guidelines. People who meet the eligibility requirements receive an electronic benefits transfer (EBT) card and can use the funds at participating grocers to buy authorized food items.
Call your local state government to find out which department issues food stamps. Many states use the department of health or nutrition or the department of human services.
Call the appropriate department and ask to speak with a caseworker who is authorized to process food stamps.
Give the caseworker the information needed to confirm your identity and locate your case in the department's system. You will be required to verify the information used in the food stamp application that the department has on file.
Go to the local office if the caseworker says the department can't verify your identity via telephone. Some agencies can provide you with free transportation to the office or give you a fax number that you can use to send the department your ID, Social Security number or other information needed to verify your identity.
Obtain your case number and keep it in your records. To continue your benefits, provide all of the information requested by the department in a timely manner.