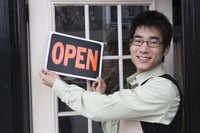 Starting a small business includes significant expenses. In fact, it often takes a business several years before it makes money. The Internal Revenue Service (IRS) permits the deduction of small business start-up costs from your income with certain limitations. The limitations, especially as they relate to passive activities and "hobby" businesses, can be complicated and difficult to determine. Consequently, professional tax advice is highly advisable.
Deducting Start-Up Costs
Separate the costs of considering the business from starting the business. Costs associated with thinking about starting a business, but not leading to the start of a business, are not typically deductible. So, surveying the market to decide whether to start a business is not always a tax-deductible cost.
Track start-up costs. In order for the IRS to allow the start-up costs of a new business, there must be records of the expenses being incurred. Consequently receipts and records are vital. This is also essential for the computation of the possible start-up cost deduction from your taxes.
Identify eligible costs. There are limits on the total amount of start-up costs that can be deducted from your taxes. For a small start up, up to $5,000 may be deducted. However, this deduction is eliminated if more than $50,000 is spent on starting the business. Eligible costs will include, but are not limited to, items like marketing the new business, hiring lawyers to start the business entity and expenses in securing customers. For a small start up held by an individual, the deductions can be made on Schedule C of your tax return.