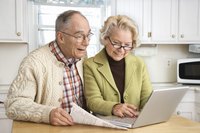 If you are an American over 65, living with a disability or coping with End-Stage Renal Disease, then Medicare coverage is an option for you. There is a lot of information to digest when it comes to Medicare. Thanks to modern technology, all of that information is available electronically. Using a computer with Internet access, you can have Medicare knowledge at your fingertips. You don't even have to be a computer whiz.
Turn on your computer and open up the Internet browser. This should be an icon that says Internet Explorer, Safari, Firefox or Opera underneath. Press this icon twice, quickly, with your mouse (double-click).
Use the mouse to press the right blue arrow until you reach page 21. Pages 21 through 26 explain Medicare benefits and services that are covered.