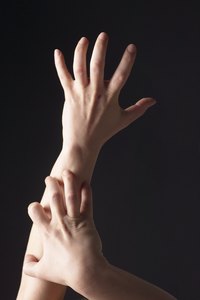 There's nothing quite as miserable as a body rash. Although there are many rash types and causes, most rashes can be taken care of with home treatments and medications. Generally, rashes appear as patches of red bumps on the body and can be caused by an allergic reaction, a fungus, a virus, an infection or inflammation. Any rash that is accompanied by a high fever, nausea, vomiting or difficulty breathing or swallowing requires immediate medical attention.
Rashes Caused by Allergic Reactions
Rashes caused by allergic reactions appear as scaly red or pink areas of skin and are referred to as contact dermatitis. They are generally elevated and may include blisters. These rashes are usually very itchy and are caused by any number of allergens, from certain metals, foods and lotions to exposure to plants, detergents or fabrics. Try to determine the allergen that caused the rash and avoid it. Treat the itching with an oral or topical antihistamine. If the rash persists for more than four days, visit your doctor, who may prescribe oral or topical steroids to treat the rash.
Rashes Caused by Viruses
Viral rashes usually appear on the arms, legs and trunk. The rash appears as small pink and red bumps and may or may not itch. Fever, aching, fatigue and headache often accompany viral rashes. These rashes generally disappear after a few days. In the meantime, take acetaminophen for pain and fever, drink plenty of liquids and get some rest. Topical anti-itch cream will help to reduce discomfort if your rash is itchy. See your doctor if you have severe abdominal pain, swollen and painful joints, a fever over 101 degrees that lasts more than 24 hours, or a severe headache accompanied by confusion or seizures.
Rashes Caused by Fungi
Fungal rashes are fiery red and usually affect large areas of skin. These rashes may burn or itch. If the rash is dry, apply anti-fungal cream to the affected area; if the rash is moist, apply anti-fungal powder. Keep the rash area clean and dry to promote healing. As the rash heals, it may become dry and flaky. Moisturize the area with fragrance-free lotion as needed. If you suspect ringworm, which is a highly contagious rash appearing as scaly, red rings, see your doctor.
Hives
Hives are welts that appear on the skin and can be caused by viruses, fungi, bacteria, allergies and stress. Individual hives usually disappear within 24 hours, but new hives may appear as old ones heal. Hives are very common and usually appear on the upper arms and legs, hands, feet and trunk. To soothe the itching and burning that usually accompany hives, take an over-the-counter oral antihistamine. Loose clothing, cool showers and cold compresses may also help with discomfort. See your doctor if you have difficulty breathing or swallowing, or if your hives persist for more than a few days.