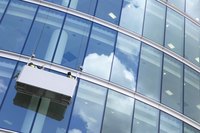 There are basically two markets to sell window cleaning services to: commercial properties and residential properties. Window cleaning businesses are fairly easy to run and have low start-up and marketing costs. Residential customers are the easiest and cheapest customers to sell to. There are literally hundreds of ways to sell to potential customers. The following are a few marketing ideas for business owners just getting started.
Things You'll Need
Price sheets
Door hangers
Decide how much you are going to charge residential and business customers to clean their windows. Will you offer discount pricing if a customer purchases services for several months or an entire year? Will you clean windows inside and out? Will you clean second story windows from the outside?
Create a price sheet for potential customers. Detail the costs of each window cleaning service you offer. Add any discounts or specials that you have decided to offer.
Create fliers or door hangers highlighting your services. Leave fliers or door hangers at residences throughout your service area. You can do this yourself or hire someone to do it for you.
Create postcards highlighting your services. Use an interesting image to grab the attention of your potential customers. An example could be a child looking through a clean circle in the middle of a very dirty window. You could also choose to highlight some health benefits of having your windows cleaned such as reducing allergy symptoms by getting rid of the dust and mold that collects on dirty windows, in window sills and around the edges of windows.
Mail postcards to your service region. You can get local mailing lists from your post office. You can also leave postcards at local businesses for potential customers to find. Visit local businesses in-person and ask if they would be willing to let you leave information about your business for their customers to see. Most will say yes, especially small business owners. Offer a bonus or discount to get a better response. You might offer every fourth window cleaned for free if a customer responds by a certain date.
Advertise your business in the service section of your local newspaper under cleaning services. Focus on your specialty of window cleaning to stand out from the crowd of house cleaning or carpet cleaning services.
Use outdoor advertising signs at busy intersections to let people know about your business. Create a sign that looks like a window to attract attention and leave a powerful image in people's minds.