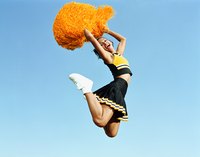 If you have experience cheerleading on a high school or college level, you might want to consider starting a cheerleading business. Start small to reduce start up costs. It might be unrealistic to start your own cheerleading team unless you have your own gym or one that you can access on a regular basis. If you don't have a gym, you can utilize your own backyard or the backyard of your clients at first. Many children and teens want to learn how to cheer, so they can try out for their school teams. You can be the one to teach them.
Things You'll Need
Trampoline (optional)
Business cards
Purchase pom-poms and mats for stretching and tumbling. You might also want to consider purchasing a trampoline for your backyard if you have the funds, because it's much easier to learn jumps and tumbling on a trampoline.
Determine what services you want to offer. You could offer individual lessons, group lessons and weekend or summer camps if you have the resources. You could also offer team lessons to established school teams.
Decide how much you want to charge for each service. You don't want to charge too much, because you need to gain clients. You also don't want to charge too little, because you'll be stuck at a price that you're not happy with. To gain new clients you could offer a discount for the first two lessons such as a two for one deal.
Advertise your services. You already have the knowledge of cheerleading, so you don't need much more before you can start to offer your services. Get business cards printed or print them with a home computer and printer. Make sure you include your company name, your contact information and the specific services that you offer on your business cards. You could also start a website and a blog about cheerleading to draw in more customers.
Ask the schools in your area who have cheerleading teams when they have try outs for the year. Meet with the principals and cheerleading coaches to see if you could advertise your services at the schools a month or two before tryouts. If the coaches trust you, they may recommend you to girls during the try out period and to girls who didn't make the team but want to try out again next year.