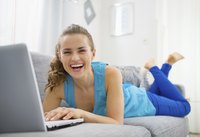 Computers, mobile devices and Internet technology make training materials accessible on an anywhere, anytime basis. Creating online courses can help you capitalize on and profit further from the insights you've gleaned in building expertise in your field. Unless you let the world know the value and availability of the training you've created, however, no one but you will know your courses exist. Some of the same skills and venues you use to promote other aspects of your business can assist you in promoting the courses you offer online. Broaden your reach to enhance the revenue and respect your courses generate.
Offer a "free sample." Provide no-charge access to an existing course -- introductory, older or shorter than your other offerings -- in exchange for a prospect's name and email address.
Share part of a course to show the value of your training materials. Make several segments or chapters of a multi-segment course accessible as YouTube videos.
Establish a social media presence. To avoid annoying followers with too many overtly commercial messages, limit the number of tweets or posts you dedicate to promotion of your courses. Devote the majority of a regular stream of communications to providing helpful information, establishing yourself as an expert and answering questions from the public.
Post testimonials from satisfied students who complete your courses. Solicit feedback from registered users of your training materials and ask for their permission to share their praise. Build the feedback process directly into the course itself as a last step in the training.
Give a discount on simultaneous registration for two or more related courses. Assemble a training bundle that gives registrants a 10 percent savings or provides a buy-one-get-one-half-off incentive.
Create an e-book to accompany your course. Sell it as a separate item as well as with the course itself.
Update your LinkedIn profile with listings of new course titles as you release them. Start a LinkedIn group related to your area of training expertise, or join and become active in one that already exists.