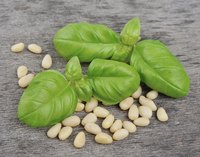 Pine nuts, also known as pignolis and pinyons, are harvested from the cones of nut-bearing pine trees throughout the world. These small, ivory-colored nuts have been identified as the cause of an emerging problem known as "pine mouth syndrome," an adverse food reaction that can spoil taste buds for weeks.
No Known Remedy
Pine mouth syndrome affects your taste buds by making everything, even water, taste bitter or metallic. According to the U.S. Food and Drug Administration, it typically occurs within 48 hours of consuming pine nuts, and can last anywhere from a few days to two weeks. The problem is characterized as an adverse food reaction, not a food allergy, and it has no known therapies or remedies.
Self-Resolving Problem
A study published in the "Journal of Medical Toxicology" in June 2010 found that although little is known about pine mouth syndrome, symptoms seem to be worst within the first couple of days and typically improve over time. The journal "Food and Chemical Toxicology" reports that the problem usually disappears on its own and hasn't been linked to more serious health problems.