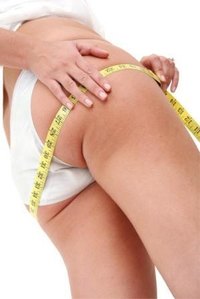 There are a few exercises that can tone and strengthen your lower body which includes buttocks, thighs, and hips. Do a few repetitions of the following exercises each or every other day to tone those troubled areas.
Leg Lifts
Leg lifts can help you strengthen your inner and outer thighs. An elevated leg lift can help work more areas of your body and adding weights can help you work your upper body as well
The site Fit Sugar shows you how to properly do a leg life with elevated format. Check out http://www.fitsugar.com/2788241

Squats
Squats are great exercises to work your buttocks as well as your thigh areas. Squats not only help strengthen and tone your lower body but also help make your hips and knees stronger and more flexible. Chair squats make it easy to complete this exercise and gain all the benefits. You would place the chair behind you. You then keep your body aligned and will do repetitions while squeezing your muscles on the way up. You can also stand behind the chair and do squat exercises using the chair to brace you.

Calf Lifts
Calf lifts help strengthen your calf muscles giving you a defined look. To do a calf lift you would stand up straight and have your legs hip length apart. You would then raise your heels off the floor about 2 inches and then lower your heels back to the floor. You would repeat this for 8-10 repetitions. You can add weights to add resistance.