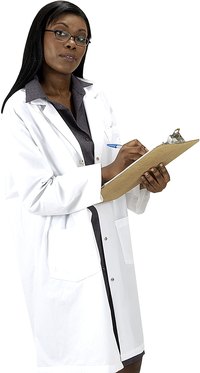 As women get older, they may experience age spots or other conditions on the genitalia. Unless there is an underlying medical condition involved, lessening these discolorations can be done either in the home or in the doctor's office.
Ensure that the discoloration is not a medical condition, such as genital warts, contact dermatitis or syphilis. Genital warts, in their first outbreak, appear as a myriad of white pimples, while contact dermatitis and syphilis manifest as scaly rashes.
Try using an over-the-counter topical treatment for the discoloration. Esoterica and Porcelana are two products that work over time to gradually fade age spots. Apply a small dab of the product on the inner arms to make sure it doesn't cause an allergic reaction. Use the cream on the genitals in the evening, right before bedtime, then wash it off thoroughly in the morning. This treatment is the safest but can be the longest, depending on the darkness of the discoloration.
Consider homeopathic treatments such as aloe vera or lemon juice. Again, it is suggested that you first spot-test the treatment on another part of the body before applying it directly to the genitals. Juice from the aloe vera plant or a lemon can be applied twice a day. Improvements should be seen within a month. The juice from the papaya, containing papain, has also been noted for its bleaching qualities.
Determine if you're a good candidate for cryosurgery. Problematic dark spots can be burned off with liquid nitrogen. This is done in a doctor's office and is not covered by medical insurance as it is a cosmetic procedure. Chemical peel is also a treatment for genital discoloration and is often done in conjunction with cryosurgery.