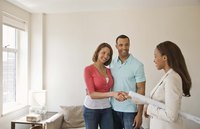 There are often two different realtors who work cooperatively to complete the sale of a home. Both actually have the right to claim that they "sold" the house.
A listing agent markets the home for sale and represents the sellers. The other agent represents the buyers in a transaction, and is usually referred to as the buyer's agent or as the selling agent. Occasionally the listing agent represents both parties, but this is not the most common scenario.
Finding out which realtor sold a house in your neighborhood usually involves identifying the buyer's agent, who are not identified as readily as the listing agent.
Things You'll Need
Property address
Sale date
Multiple Listing Service (MLS) data.
Identify Who Can Help You
Ask the new owner who their agent was. This is the easiest way to find out who sold the house. If the new owner is not available, you will need to talk to a realtor to access their multiple listing data.
Call a realtor you know. You will have the best chance of getting the information you want when you have an established relationship. Realtors take pride in being knowledgeable about recent transactions and are happy to chat about them.
Call the listing agent if you don't know any realtors. Listing agents are often identified on the For Sale sign. Ask the listing agent who represented the buyer.
Call a realtor who doesn't work in the immediate neighborhood if the listing agent isn't helpful.
Ask the neighbors. This step is not always reliable, but it can work. Buyer's agents and listing agents sometimes send out postcards following a sale.