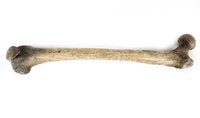 Although trained professionals can typically tell the difference between human and animal bones on sight, there are some bones that are difficult to tell apart, especially if they are only fragments of bone. Because of that, approximately 25 to 30 percent of all bones that law enforcement officers submit for forensic analysis are not human. Several visual techniques and forensic tools are helpful in making a definitive identification.
Visual Inspection for Physical Characteristics
In a visual analysis, look for indicators that bone is from a bipedal creature. For example, non-human mammals typically have a long, narrow pelvis, but humans have a bowl-shaped pelvis that is broad and shallow. Additionally, the longest bone in the human body is the femur, or thigh bone, but this same bone is usually relatively short in animals. Other visual methods include looking for a distinguishably large thumb and determining if the radius and ulna -- the two bones that make up the lower arm -- are separate or fused as they are in most animal skeletons. Look, as well, for the presence of a chin in the skull; most animals won't have one.
Measurement Techniques
A simple measurement helps to identify complete bones because human bones are not as thick in relation to length as the majority of animal bones. Human bones are approximately one-fourth as thick in diameter as the total length of the bone, but animal bones are usually half as thick as their length. Another easy technique that forensic specialists use is looking at the overall size of each bone and how they all fit together. Although every mammal shares certain skeletal similarities, the size, shape and exact fit between each bone varies noticeably between species.
The Most Common Bone Identification Mistake
Incomplete bear and raccoon paws can easily be initially mistaken for a human child's hands due to their size. Raccoon paw bones are very similar in shape and size to a human child's hand, and human adult hands have a lot in common with bear paws. The animal bones, however, are thicker, and they also have a flatter appearance. Additionally, humans have a much larger thumb bone than those of raccoons and bears. Make these determinations by measuring and comparing every bone found.
Imaging Analysis of Compact Bone
Each human and animal bone consists of three layers: compact bone, spongy bone and bone marrow. A Haversian system is a series of concentric circles that surround hollow tubes that contain blood vessels in the compact bones of humans. This evidence is simple to find by using morphology and imaging technology. Most animal species do not have a Haversian system, but even those that do, including pigs, sheep, cows and dogs, do not end up with the same easily identifiable circles.
Microscopic Analysis of Spongy Bone
Microscopic bone structure analysis can also be used to take a closer look at the spongy bone layer. Spongy bone in every species contains an irregular arrangement of trabeculae, which is an anchoring strand of connective tissue. There are noticeable differences in the thickness of these trabeculae based on the size of the species. In other words, an analysis of the spongy bone can quickly rule out many animals, and this makes it much easier for a forensic specialist to determine conclusively if a bone fragment is human.